I will be taking a little detour from the produce of the day challenge to share one of my favorite recipes that I made up this summer, egg salad.
Usually egg salad is made with mayonnaise, which makes it not so healthy. My recipe calls for plain greek yogurt instead. Plain greek yogurt is a staple in my house. I use it in smoothies, replacements for butter in baking, substitute for sour cream, and just as is with fruit.
Egg Salad
1/2 cup plain greek yogurt (I use Fage)
1 tbsp. dijon mustard
1/4 cup scallions, chopped thinly
5 hard boiled eggs
sea salt and pepper to taste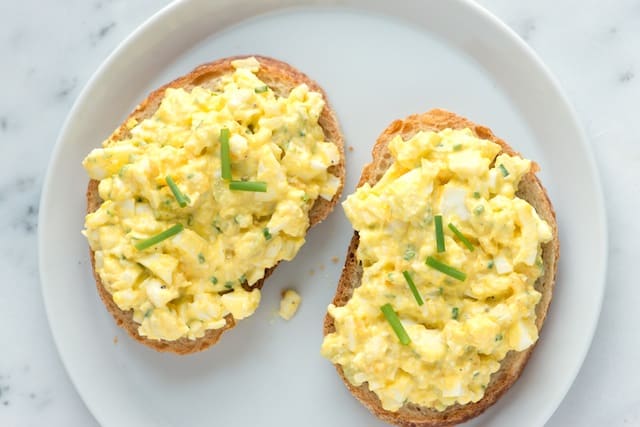 In a bowl deshell the eggs. Cut into 1/2 inch pieces and place in a separate bowl. Add yogurt, mustard, scallion, salt, and pepper and combine. Serve on ezekiel bread, lettuce wraps, with beanito chips, or eat by itself!
Eggs are a great source of protein (from the egg whites) and have few calories. They are high in vitamin D, B12, B2, and B6. A lot of people refrain from eating the yolk, but it actually contains good fats. Don't be afraid to eat eggs…an egg a day may keep the doctor away!